Enterprise Cloud Version Control
Assembla is mission critical VCS for teams writing mission critical code.
Compliance in the cloud
Assembla's thought leadership and best practices in VCS security enable cloud repositories to meet and even exceed HIPAA, SOC2, PCI and GDPR compliance standards.
TRUST, SECURITY, & PRIVACY
Assembla operates within the SOC2 framework. That means we have the processes, procedures, and practices in place that enterprises expect and critical repositories demand.
CONTINUOUS MONITORING
Assembla constantly monitors every layer of your VCS infrastructure—from the network and hardware through to the application.
PROACTIVE VULNERABILITY DETECTION
Assembla has partnered with HackerOne to provide proactive security monitoring and state of the art threat prevention.
SPEAK TO AN EXPERT
World-Class Uptime
Assembla runs customized infrastructure built for high performance repository hosting. Our uptime demonstrates our focus on reliability: 5 nines over the last 10 quarters.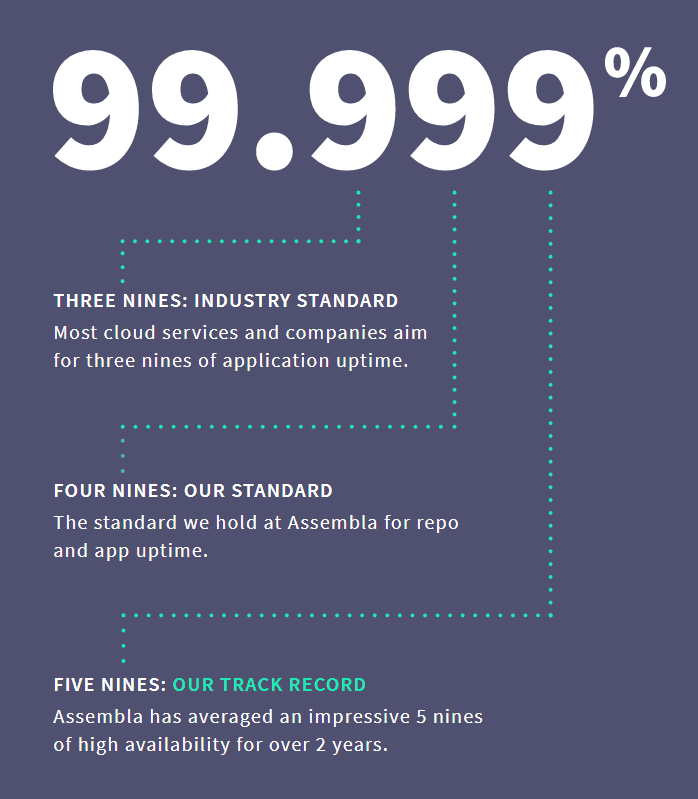 Unite all your teams, repositories, tools, and deployments with Assembla
Assembla can provide your team with a modern, cloud-based development workflow. Automate deployments, setup continuous integration and testing, and connect with a variety of cloud services like JIRA or Trello.
GET STARTED
Ready to get started with Enterprise Cloud Version Control?